The Bands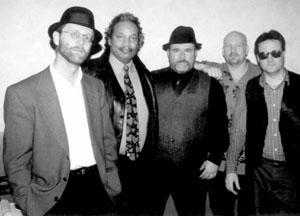 ---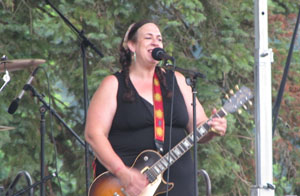 Joanna Connor is a complete electric guitar package and vocalist extraordinaire. She covers the range of modern blues, slide guitar and blues rock with her own compositions very much influenced by funk, rock, jazz and world music as well as delta blues. Her sense of melody, phrasing and dynamics along with a very modern technique make her a very funky, soulful and compelling guitarist. As for vocal abilities, if Joanna wasn't a guitarist, she could easily be a lead singer in any band.
---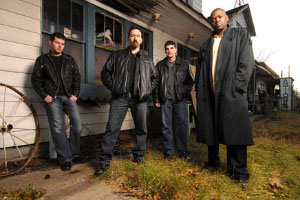 ---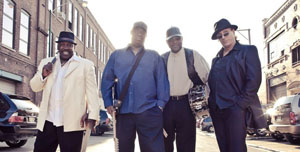 Mike Wheeler has been playing the blues for over 28 years.He did his first blues gig with Muddy Waters sideman Lovey Lee in 1984.In the early 90's he played with bassist & vocalist Joan Baby. He has since been a member of Cadillac Dave & The Chicago Redhots, Sam Cockrell & The Groove, Big Ray & Chicago's Most Wanted with Nellie Tiger Travis, Big James & The Chicago Playboys and The Grooveshakers with Peaches Staten. Mike has performed with Koko Taylor,Buddy Guy,B.B. King,Shemekia Copeland,Jimmy Johnson,Son Seals,Willie Kent and a who's who of today's Chicago Blues!
Larry Williams is a Bass Extraordinaire with unmatched stage presence and charisma.Influenced by artists such as Bennie Williams,Jerome Scott,Sam Cockrell,Larry Graham,James Jamerson,Willie Dixon,Stanley Clarke and Verdine White just to name a few,Larry's style is clean and driving,reminiscent of the late greats yet modern,enabling him to play with the best in the business.From Gospel to Alternative,Larry can play it all.
Cleo Cole began playing drums at the age of 10.He was influenced by his older brother Jethero Cole.Cleo played in his grammar and high school bands and also attended the Conservatory of Music where he was taught by Peter Romalis.He then began playing around town with various artists such as Doug McDonald,Alvin Cash,Floyd Taylor,Zora Young,Maurice John Vaughn,Shirley King,Big James,Nellie Travis,Peaches Staten,Sam Cockrell and Pistol Pete.
Brian James is keyboardist for The Mike Wheeler Band.He has played and acted as musical director for The Chi-Lites,The Drifters,The Classic Five,Sugar Blue,John Lee Hooker Jr,Chico Banks and Blues Legend Lonnie Brooks.He brings to the band his varied and diverse range of experiences and influences stemming from stints with Reggae,Country,Jazz,Rock Zydeco,Pop,Blues and R&B groups.
---