The Bands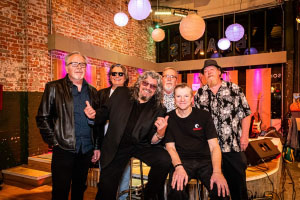 Harvey "Ole Harv" Stauffer has been the producer and host for The Blues Revue on WVPE radio since 1983. His show is heard weekend afternoons on 88.1 FM. He was born in Chicago, IL and his show's motto is: "Testify to the Blues". Ole Harv has fronted many area blues bands over the years, but is best known for being the front man for the Elwood Splinters Blues Band from 1996 to 2017.
Dale "Catman" Ballard began playing harmonica at age 16 and played in various area bands from 1976 to 1990. In 1992, he started Catman & The All-Niters that played all around the Michiana area.
Steve Harris started guitar lessons when he was 7 and played his first professional gig at age 11. He toured the Midwest with Cantaloupe Island, went to the Berklee College of Music in 1978 and was a professional musician in Kansas City from 1979 to 1981. He was then a studio musician at Star Fox Studios in Ft. Wayne and also performed in the legendary Dr. Bob Band until 1986. He has performed in numerous Michiana area club bands.
Jeff Huff started his first band in 6th grade and has been at it ever since. In the late 60's and early 70's, he was in The Band-Its, The Periodical Sun, and The Prime Source. After high school, he was with Loveless, Runner and HAZ that played many local bars and clubs in Michiana. For the past 20 years, he's been a member of The Source and an acoustic duo with son Colin called Huff's Enough.
Johnny "on the spot" Smeltzer is a local blues man that has been playing bass for over 50 years. He has shared the stage with the likes of Koko Taylor, Chief Eddie Clearwater and Eddie King just to name a few. His unique style and sound has been compared to Donald "Duck" Dunn and Willie Dixon. He has worked with many area bands and his smooth grooves compliment any project he is in.
The band also features Grant "Shecky" Darby on drums.
---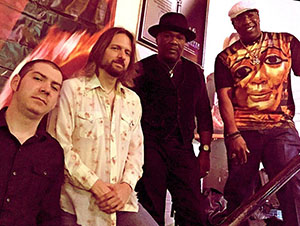 ---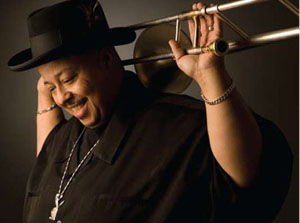 "Big James" Montgomery has played with Little Milton, Albert King, and Buddy Guy before becoming the trombonist and lead vocalist with the Chicago Playboys, the Windy City's premier R&B ensemble. Right Here Right Now provides ample servings of The Playboys unique-horn-driven sound, which is a little R&B, a little jazzy funk and whole lotta soul. It features eight original compositions as well as covers of Bobby Bland, Tyrone Davis, and the O'Jays, all highlighted by precisely-executed horn arrangements and dynamic, soulful musicianship.
Led by trombonist and vocalist Montgomery, the Chicago Playboys today are comprised of Charlie Kimble on saxophone, Kenny Anderson trumpet, Joe Blocker keyboards, Mike Wheeler guitar and vocals, Larry Williams bass and Cleo Cole drums. -Peter "Cornbread" Cohen
---