The Bands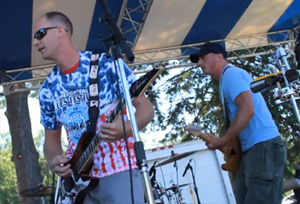 Since 2010, musical members of the South Bend Fire Department have come together to create an all-firefighter band specifically for the South Bend Firefighter's Local 362 Bluesfest. They call themselves the 362 All Stars. Although the line-up changes from year to year, a core group of individuals provide a solid foundation.
Because members work on opposing shifts, practice time comes at a premium. The band compiles a set list and is able to rehearse only about a half dozen times before taking the stage as the first act at the Bluesfest. In the past, they've played everything from Buddy Guy and The Beatles to B.B King, Led Zeppelin and the Rolling Stones.
"It's for a great cause and we have a lot of fun. It's something I look forward to every year," says core drummer, Mark Mammon. "Our goals are pretty simple," added keyboardist, Todd Skwarcan. "Give about an hour of entertainment, have fun and try not to lay an egg."
---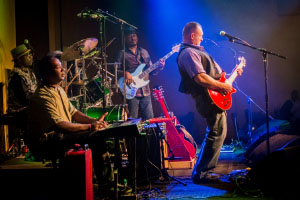 This act consists of national talents: Johnny B. Gayden - Alligator Records recording artist and bass player for "Albert Collins and the Ice Breakers"; Drummer Jerry "Bam Bam" Porter - toured with Buddy Guy for 14 years, Jerry has shared the stage with Eric Clapton, toured with Magic Slim and the Teardrops, Ronnie Baker Brooks, and currently fresh off touring with the late great James Cotton; Willie Styles on keys - Willie briefly toured with Robert Ward and is one of the premier and most sought out keyboard players in west Michigan.
J R Clark fronts the band on vocals and guitar. Melding a host influences such as, Michael Burks, Luther Allison, and Larry McCray, J R puts out a big sound of house rockin' blues, soul and southern rock of his own! J R has also toured nationally with Lil' Ed and the Blues Imperials. Performing at a host of festivals like South Bend Blues and Ribs festival at Coveleski Stadium, Kalamazoo Blues Festival, "Meet me on the Island" in South Bend , Lansing Chicken Wing Festival and many regional venues in IN, MI and IL. These guys are rolling and are always a crowd favorite. This high-energy act consisting of national and international touring artist's is sure to put a smile on your face and a groove in your step!
---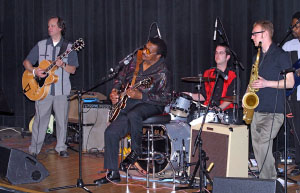 ---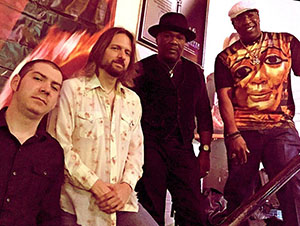 The members of MojoDaddy are all top-shelf musicians who have achieved considerable success with their respective groups. Throughout their careers, these guys have taken the message of Chicago blues and traveled the world to spread it with artists such as Buddy Guy, The Kinsey Report, Steepwater Band and Green Room Rockers. The group consists of Kenny Kinsey (bass/vocals), Jerry Porter (drums/vocals), Jeff Massey (Slide guitar/vocals) and Ryan Frahm (guitar/vocals).
Joining forces for this CD and to take that message further, they've built a high-energy blues, funk/soul, roots-rock supergroup who thread the spirit of the past into this ten-song disc with creative, passionate playing. Employing a trio of accomplished, fire-breathing guitarists (Nick Byrd, Corey Dennison, Jeff Massey), a rock-solid rhythm section (Kenny Kinsey, Jerry Porter), and four distinct-yet-complementary vocalists (Byrd, Dennison, Massey, Kinsey), the band fuses their musical tastes into a must-have disc for any hardcore blues-rocker who has an occasional sensitive moment.
Together, they have quickly gained a reputation for being one of Northwest Indiana/Chicagoland area's top blues bands and rhythm sections. All of this has led to them appearing on a regular rotation at some of the areas hottest live music venues and annual summer festivals.
These musician's pride themselves on playing with heart and soul, creating an unstoppable energy. Their intense delivery of the music will have you up and dancing, while never letting you forget where our musical debt is owed.
---